Our priority was getting to know musicians, and we had a wonderful time doing that!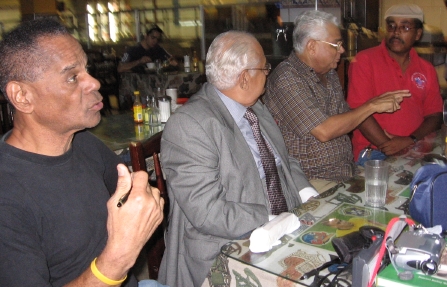 At the Minimax we talked to author and musician Francisco Buckley "Bush" (far left in photo) and other gentlemen: Alfonso Pérez "Mono", Julio Pérez "Monín", Luis Gudin, Germán Vergara, and "Don Chocho" (in photo at right) from the days of conjuntos, with plenty of stories.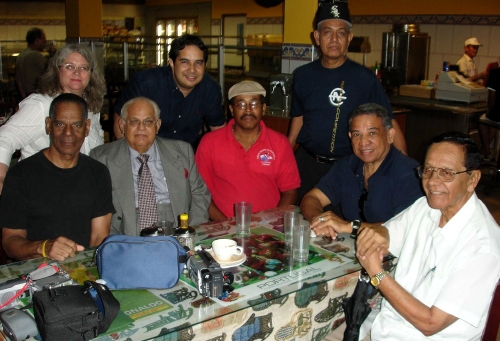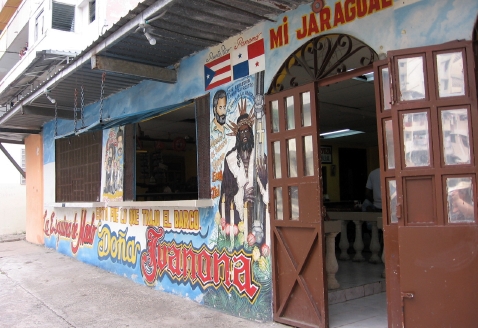 We visited la Fonda Doña Juana in 'la Esquina de Maelo' in Calle 25 Oeste & Bocas del Toro in El Chorrillo, and the very interesting sr. Pedro "Pete" Rodríguez "Sorolo" (as mentioned in Ismael Rivera's song "El Nazareno.")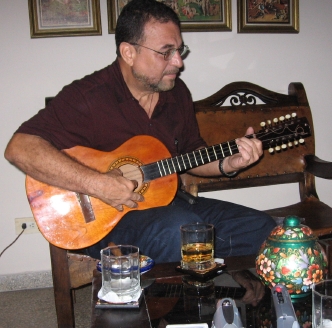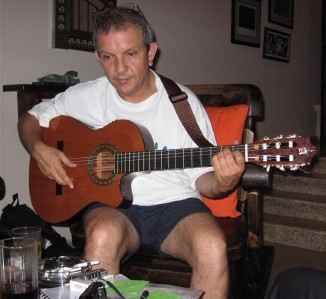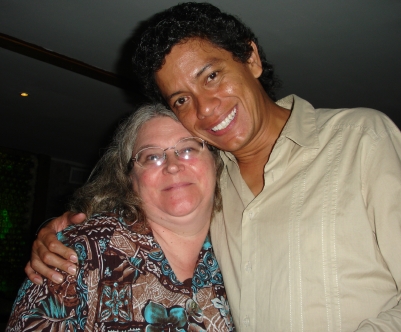 We spent a wonderful evening with Dr. Roberto Cedeño (co-author of "Ligia Elena" and others, above left) Rómulo Castro (author of "La Rosa de los Vientos" and others, above right) and singer/actor Luis Arteaga (photo at right with me.)
They answered our questions, talked about their experiences, and played and sang for us too.
Roberto is also the author of Blades: Calle del Autor, and Rómulo has just published a book/cd called Palabra de Cantada.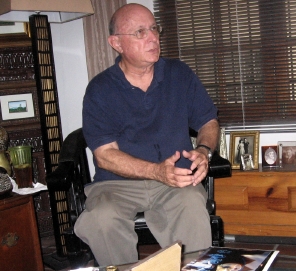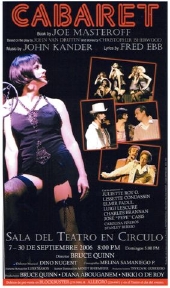 We also had the chance to talk theater with director Bruce Quinn of the
Theater of Panama
.
The productions of
Maestra Vida
in 1997 and 2005 were directed by this artist (and starred Luis Arteaga as Carmelo.)
We heard about when Mr. Quinn first met Rubén Blades while producing
West Side Story
in 1968, when Rubén was cast as one of the Jets. Mr. Quinn is currently directing a production of
Cabaret
in Panama City.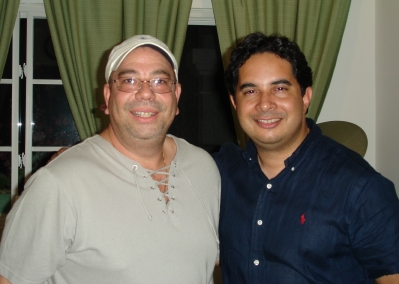 We also got to spend time with lawyer/singer/timbalero Ponty Correa, who is also known for his "Rubén Blades Tribute" shows, and he played Ramiro in the production of
Maestra Vida
.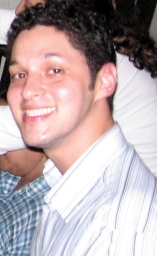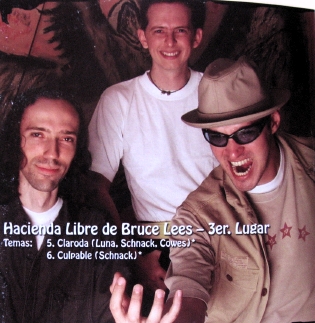 Another young multifaceted talent is Rafael Escobar Cowes, related to Roberto "Tito" Cowes (a renowned Panamanian musician from the 60's), engineer by day and member of rock fusion group Hacienda Libre de Bruce Lees by night (guitar and voice.)
AW