It must be true, because that's what it feels like. I spent less than 5 days in Panama City, Panama but those hours were full of wonderful experiences. I'll try to capture some idea of them here.

I had a specific goal on this trip, that is, research for the web pages at
maestr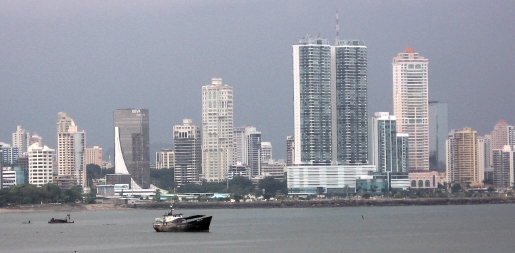 avida.com. Most of my time was spent either talking to musicians or visiting Casco Viejo.

Here is the view across Panama Bay to the newest part of the city, the business district, in Paitilla.
There is building everywhere - cranes sticking up into the sky for new skyscrapers and fancy buildings. But there is also a lot of poverty, sometimes right under those cranes.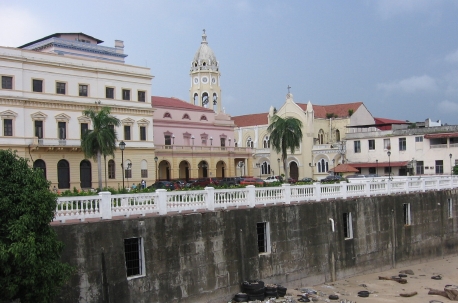 Here on the bay is the historical part of the city. The building at left is the Palacio de Gobierno, with the Teatro Nacional next to it. To the right is t
he Iglesia de San Francisco de
Asis. Not far away is the Presidential Palace.

Restorations of the unique historical buldings is gradually progressing in Casco Viejo, a World Heritage Site.
The street behind the Palacio de Gobie
rno shows the contrast.

We didn't get as much time to walk around this area as I would have liked. There were some areas of real decay and poverty, but with so much building going on, it will be a different place in a few years.



Some are works in progress...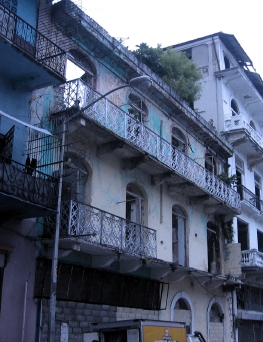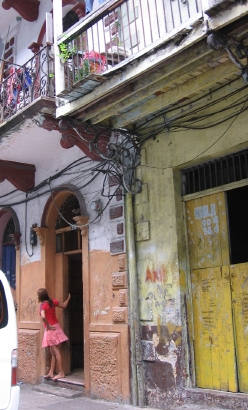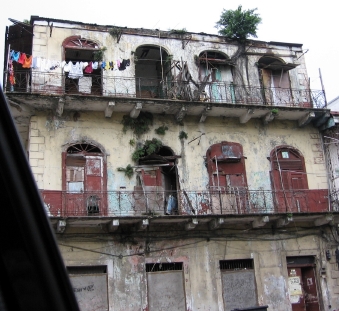 While some buildings sit waiting for attention.
This building, like so many others I photographed, is on the Parque Herrera.

Notice the interesting electrical techniques: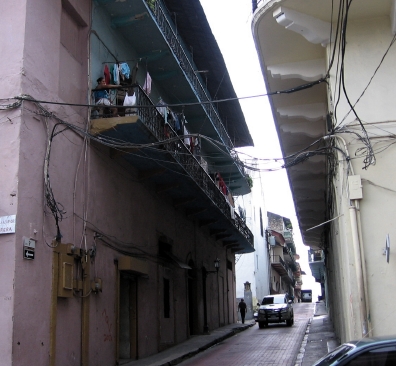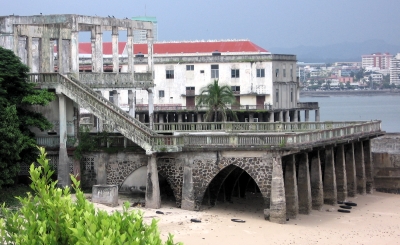 Casco Viejo is also the site of the old Club Unión, which was destroyed in the U.S. invasion in 1989.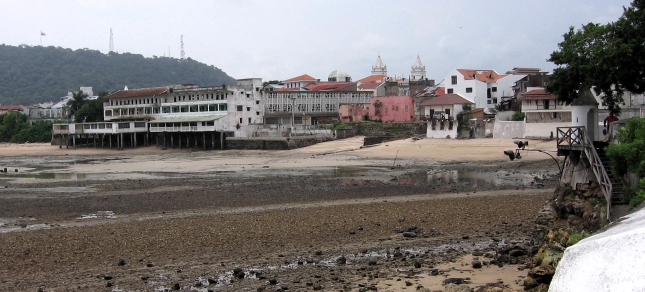 Here are some other photos across the bay.
This one is towards the Canal, toward Chorrillo and Cerro Ancón, away from the city itself, taken from Plaza Francia.

The Bridge of the Americas, spanning the Canal, connecting the split halves of Panama.
Here is the city skyline as seen from the Amador Causeway.

¡Muchas gracias!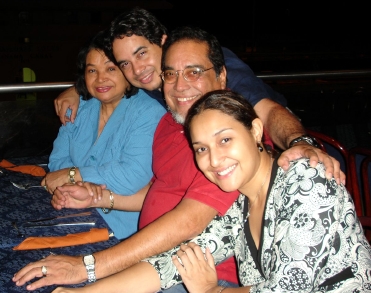 Para Jorge y la familia Alegria:
Mrs. Silia de Alegría, Jorge Alegría,
Mr. Jorge Alegría M., and Silia Alegría
Estoy agradecida por su amabilidad y su generosidad.
I cannot express in either English or español how much I appreciate your hospitality and kindness to me during my visit.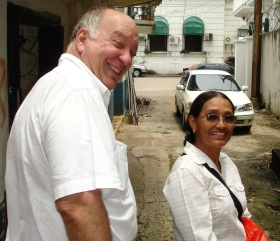 ¡Y también Tony and Marina de Zarak, gracias por toda su ayuda! Thank you for everything.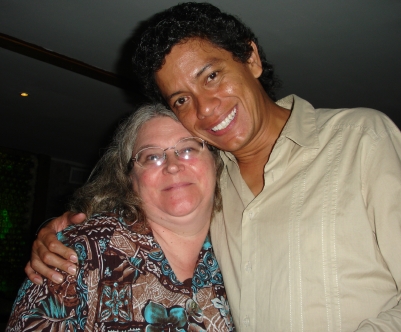 To Luis Arteaga, thank you for all your time and patience, and your excellent driving. Thank you for making all those interviews happen! And thank you for helping us retrieve the pieces of ourselves we sprinkled everywhere... I look forward to your new cd!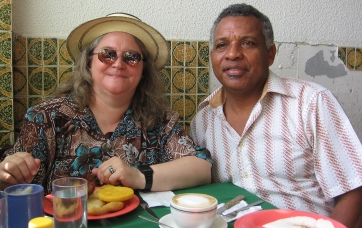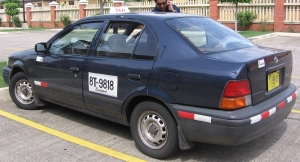 Lastly, thanks to our wonderful taxi driver Rodolfo Bethencourt "Tito" (No. 9818) and his car.
He took good care of us, introduced us to restaurants and characters, and helped us locate the Centro de Capacitación Ascanio Arosemena.
¡Muchas gracias!
AW