Being a map geek, I had to figure out all the places I went in those 4
days. I left out the artists' homes or the places where I had no idea
where I was. You can see most of the places color-coded by day on
my map
.
Brown
: Tuesday night 8/29, fresh off the plane
Pre-a - Café Boulevard Balboa!
Red
: Wed. 8/30
Aa - Palacio Lung Fung
A - Plaza Herrera
B - Plaza Francia, Palacio de Gobierno
C - Monumento de los Martires
D - Mini Max restaurant
Green
- Thurs. 8/31
E - Mailboxes Etc. & Multiplaza Pacific Mall
F - La Prensa
G - Miraflores Locks Restaurant (top left, actually off the map)
Blue
- Friday 9/1
H - Restaurante el Montuno (Via Cincuentenario)
I - Centro de Capacitación Ascanio Arosemena
J - La Esquina de Maelo
K - Amador Causeway (bottom left, actually off the map)
K2 - Ricardo Vizuete's music studio
L - Tasca Angel Bar
Purple
- Saturday 9/2
M - Ristorante Italiano Pastísima Da Gaetano
? - Noriega property
The Alegria home where I was staying is off the map on the right (center.)
Here are a couple photos of the entire city: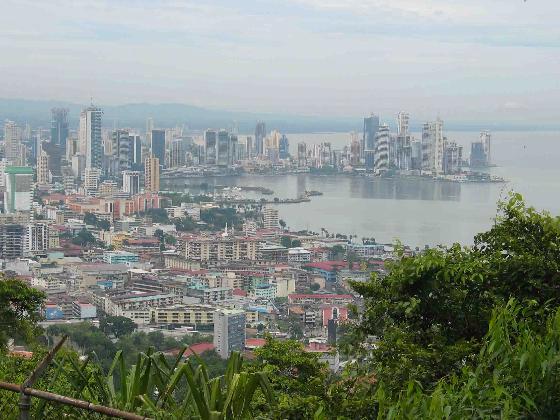 Northeast from Ancon Hill towards the new part of the city.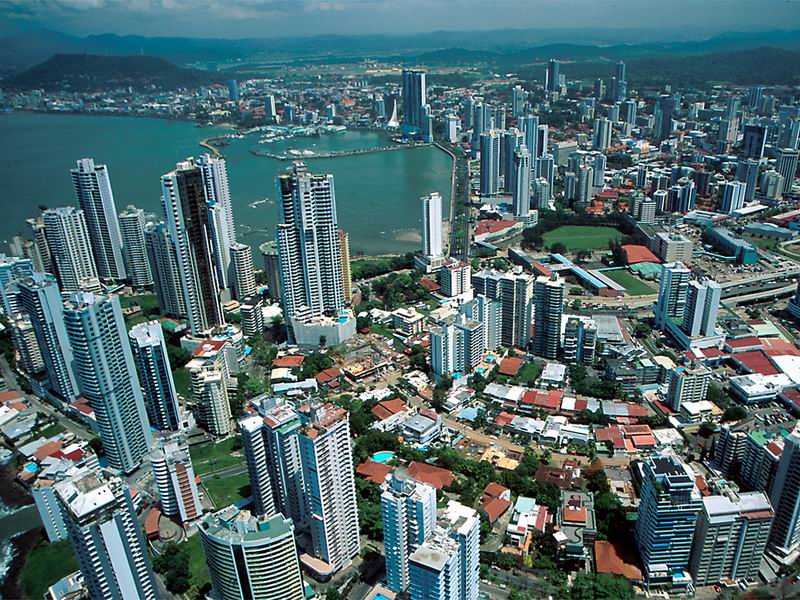 Southwest from the skyscrapers toward Ancon Hill.
Casco Viejo is at the far left, and the Canal in the background.
Interesting links:
An
interactive map
of Casco Viejo
A description of
Panamanian food
Articles in the latest edition of The Panama News about
jazz
,
petrophyphs
, and
Cabaret
in Panamá.
On Sunday 9/3 I left Panamá from Tócumen Airport on Copa
Airlines. The photo below of Tócumen isn't very good, it's a nice, modern well-organized airport which reminded me of the one in Manchester NH (which I like much better than Logan in Boston.)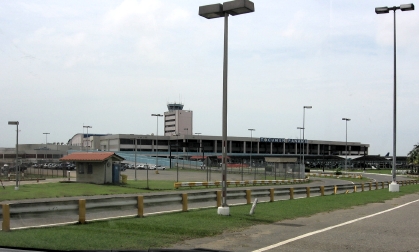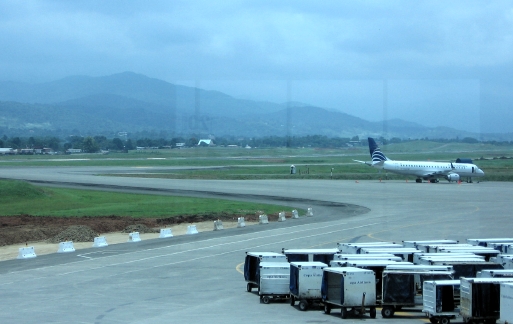 AW